This is a question likely to be on the lips of Lagosians for many years to come. 
Lagos residents experienced flooding in most parts of Lagos from a heavy rainfall that started towards close of work the day before and continued the next morning on Friday.
Many employees were stranded on their way home on the said day due to heavy traffic caused by flooded roads from the downpour, and some of us that managed to go home on that day, got back to our destinations very late at night/ midnight, which exposed a lot of commuters to robbery attacks, whilst others who could not take the risk to go slept at the office till the next morning.
As we are aware, this is usually a yearly occurrence, during the raining season, thus leaving those in the low land area in fear. Lagos as we know is a low land resting same with sea level, which means heavy rains will probably cause flooding. Some of the flooded areas reported includes Marina on Lagos Island, Victoria Island and Lekki, with viral videos circulated on social media of pictures of car parks and roads where flood levels reached up to the window level of cars. So terrible and frightening!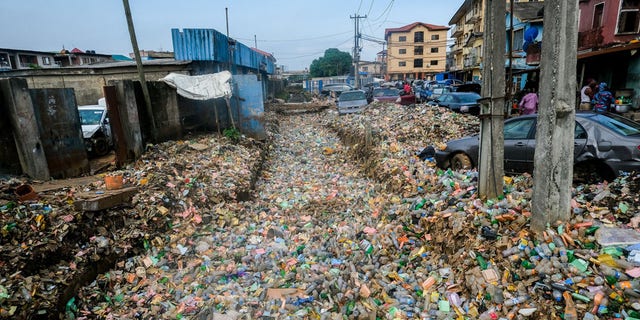 Image source: FoxNews
What must we do to prevent this reoccurrence?
As usual many of us expressed our frustration on the government through different channels of communications including the social media soliciting for the attention of the government to do something about it and blaming the government. Oh Yes, without any doubt Government has a fair share of a failed responsibility, but we also must accept the ownership and accountability as Lagosians, who intentionally have the habit of blocking the drains with their wastes of all kinds to our won detriment. 
It can be argued that in a place like Marina, the blocked drains are most likely caused by people who engaged in commercial activities and who have not seen the need to properly dispose of their wastes.  
If we continue to point fingers at the Government for failing to fix its infrastructures, does it mean we have to wait for the government to fix this with zero support from us? Certainly not…. therefore, we need to change our orientation and accept that if we do not do what is right for us all, we might end up shooting ourselves unknowingly. We are the ones mostly affected, stranded, and overwhelmed by these experiences. Therefore, the call for full participation to prevent such experiences falls on all of us in Lagos/Nigeria.
It is time to begin to shift our mindset, take responsibility of our environment and community, it is our social responsibility. We owe it to ourselves, and our wellbeing is dependent on it. We can curb this situation when we hold ourselves accountable to the way we clean up and maintain our environment. The poor drainage systems around us are not a natural phenomenon, we are partly the cause. We need to act against ill-mannered behaviours of littering our environment for our own safety.
The goal of corporate social responsibility is a shared value.
This should be seen as everyone's responsibility as the benefits are to all of us, including Organisations, Churches, Mosques, Schools, Homes etc. A few benefits are listed below
Promote Public Image/Brand. This is crucial, as a strategy that your customers/clients will consider when deciding whether to patronize you or not.
Increased brand awareness and recognition. If you are committed to ethical practices, this news will spread. More people will therefore hear about your brand, which creates an increased brand awareness.
Though a few groups or organisations engage in some activities related to sanitation occasionally, we want to task the above listed associations to imbibe this culture by engaging workforce in some voluntary activities within their environment. A day a month at a charity, shows that you are a brand committed to helping others. As a result, you will appear much more favourable to customers/clients.
Employee wellbeing
Employee wellbeing encompasses all the psychological, physical, social, and financial aspects of working life. Together, these allow people to perform to their fullest potential, thriving inside and outside the workplace. Organizations need to also educate their employees on the need for environmental consciousness.
---